Eternity rings, also known as Infinity Rings, are a type of ring that features diamonds, or other gemstones, such as cubic zirconia stones we are using, cut identically and spaced evenly around a gold, platinum, or sterling silver band. The immaculate set of the stones guarantees that the ring will have an exceptional sparkle and eye-catching shine, regardless of the angle you're looking at it from.
Eternity rings are usually gifted to mark an important milestone in life. According to older traditions, a mother was given an eternity ring after the birth of her first child. In modern times, eternity rings are usually gifted as an anniversary present, a Valentine's Day gift, or a birthday gift. Since an ordinary meaning is associated with the circle of life, the gift of an eternity ring is seen as a symbol of everlasting love and commitment. Whether you present it, an eternity ring will always symbolize luxury, health, prosperity, and the desire for never-ending love and happiness that couples wish to share.
The Eternity Ring History
Eternity Rings In Ancient History
The first eternity rings appeared in ancient Egypt about 4,000 years ago. They were a symbol of both eternal life and infinite love. The old Egyptians believed that the bond between a man and his woman was so strong that even death couldn't interrupt it.
The oldest eternity rings consisted of a metal circle and a set of stones incorporated along the entire ring circumference or only in its upper half.
Archaeologists found some astonishing designs of eternity rings with a snake devouring its tail. This 'ouroboros' signified infinity and was an ancient symbol of the birth and death cycle.
Nowadays, you can find contemporary ouroboros eternity ring models on the market. Still, the band with a gemstone line is the most popular option. The most common gems used for this design are diamonds, emeralds, and rubies, but you can also choose other jewels.
Eternity Rings In Modern History
The diamonds or other gems used in an eternity ring are significantly smaller than the centre stone used in a solitaire model. The British diamond company De Beers created the modern eternity ring variation in the 1960s.
After promoting a diamond ring as an ultimate choice for an engagement ring in the 1930s, they faced the problem of a stockpile of tiny gems. Therefore, they offered the eternity ring as an elegant solution for married women celebrating some crucial anniversaries.
American investigative journalist Edward Jay Epstein discovered that this company made a secret deal with the USSR. They bought most of their uncut diamonds for complete control over the world's gem supply.
These diamonds were usually smaller than 0.25 carats, so the company solved the problem using the ancient ring as a role model. The contemporary eternity ring was born and has become highly popular.
The eternity ring is a band with diamonds all the way around. You can give it to your girlfriend as an engagement ring, use it as a wedding band, or buy it to celebrate an important anniversary or childbirth. Eternity rings can signify the years of marriage you have spent together and those yet to come.
When do you get an eternity ring?
So, when do you buy an eternity ring? Eternity rings are traditionally given to mark significant milestones in a relationship. Symbolising the circle of life, an eternity ring makes the perfect gift for the birth of your first-born child, a special birthday, your wedding anniversary, or an extra thoughtful Valentine's Day gift. Ultimately, if it's a momentous day for you both, it's worthy of a stunning eternity ring.
How should I wear an eternity ring?
How you choose to wear an eternity ring is entirely your choice. Eternity rings are usually designed to be worn alongside engagement and wedding rings. A popular way to wear eternity rings is between the engagement and wedding rings or sitting on top of both rings.
Alternatively, some people wear an eternity ring separately to their engagement and wedding bands, giving it its own space on the right hand. It may be that your partner's engagement and wedding ring were designed to complement each other as a set, so they may prefer to wear an eternity ring separately.
Can you propose with an eternity ring?
The type of ring you choose to pop the question with is up to you. Choosing to propose with an eternity ring has become more popular – with some preferring the look of an eternity ring with its several stones and more intricate design over a traditional engagement ring. Or, you may choose to propose with an eternity ring initially before you pick out the perfect engagement ring together as a couple.
One thing to remember if you propose with an eternity ring is that, unlike most traditional engagement rings, eternity rings are difficult to resize. To avoid disappointment, getting a custom-made eternity ring may be a good idea to make sure it fits your bride-to-be.
Choose An Appropriate Ring Size
Considering how significant an eternity ring is in symbolizing your love and relationship, it's only essential to pick the right fit. And so, ensure that you have the correct measurements before purchasing one. This way, you can minimize the chances of running into issues of it slipping off or being uncomfortably tight.
After many years together, you might think it'd be easy to know exactly what finger size your partner wears. For one, you can base it on her engagement or wedding ring. To help you do this, consider measuring the diameter of the ring's inner circle. And from there, you can compare it to a standard ring size chart to determine the right measurement.
On the other hand, you can also enlist the help of her friends and family to help you determine her ring size. And more so, they can also discreetly ask about her preferences, giving you more information to work with when choosing the perfect eternity ring.
We at Galleria Armadoro offer a free ring sizer with free shipping orders so that you can get your ring size right every time. Alternatively, you can see our Ring Size Guide.
Wrapping Up
Eternity rings have risen in popularity, especially in the past ten years. They used to be less common and, for a while, got a bad rap because of their extra maintenance as a wedding band. However, now eternity ring designs are getting more comfortable, and people want the high-end sparkle that eternity rings provide. They are an excellent option for a sentimental anniversary gift or to commemorate the birth of a child. No matter what occasion you choose, eternity rings will most definitely be a classic, sparkly piece that will be loved and worn for years to come.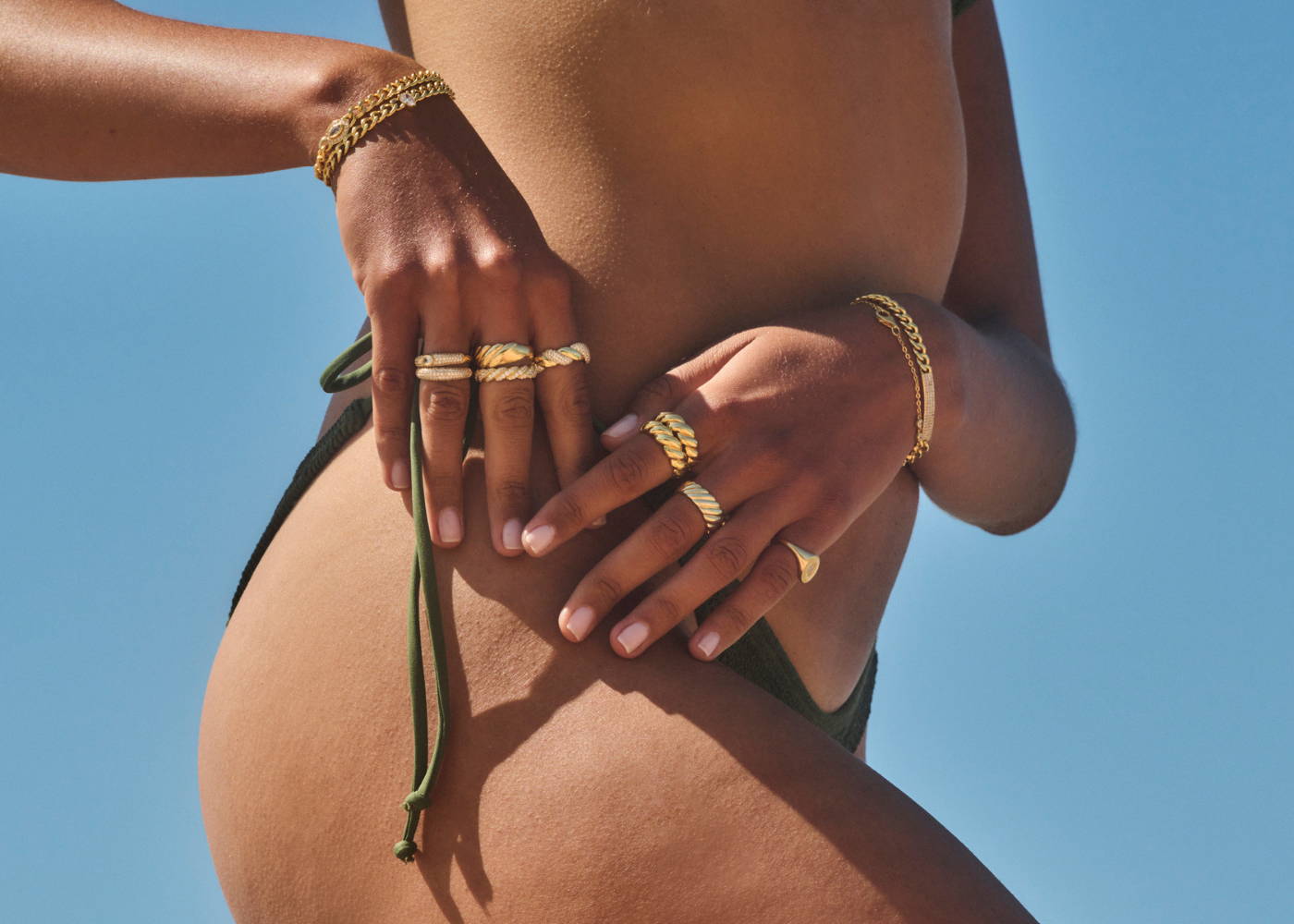 It's no doubt that gifting your better half is one of the best ways to show them how much you love and appreciate them and elicit surprise. And what better way to show your love and affection than gifting them an eternity ring?