THE 6 HOOP-EARRING STYLES YOU MUST EXPERIMENT WITH – AND HOW TO ROCK THEM.

Gold hoop earrings have become a timeless jewelry staple, seamlessly transitioning from day to night with their versatile charm. In this article, we bring you the six iconic hoop earring styles that will effortlessly enhance your jewelry collection and elevate your fashion game.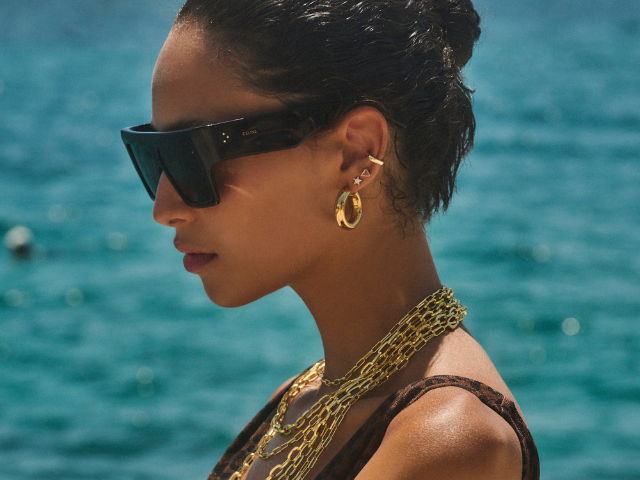 Hoop earrings have stood the test of time, maintaining their popularity and timeless appeal. Whether you prefer the sleekness of silver or the richness of gold, there is a hoop earring style for every occasion.
We will explore the six hoop earring styles that every jewellery lover should try, and provide tips on how to wear them to enhance your personal style.
1. Gold Hoop Earrings
Gold hoop earrings are the epitome of elegance and sophistication. Their warm, lustrous tone adds a touch of luxury to any outfit.
Whether you opt for small gold hoop earrings or large gold hoop earrings, they are versatile accessories that effortlessly elevate your look. For a classic and refined ensemble, pair small gold hoop earrings with a tailored blazer and a crisp white shirt.
To make a bold statement, choose large gold hoop earrings and wear them with a flowing maxi dress or a sleek cocktail gown.
2. Silver Hoops
While gold hoop earrings exude opulence, silver hoops offer a more contemporary and understated charm. These versatile earrings can be dressed up or down, making them a staple for both casual and formal occasions.
For a casual daytime look, pair silver hoop earrings with a simple white tee and jeans. To transition into the evening, upgrade your outfit with a little black dress and silver hoop earrings.
Their cool metallic shine will add a touch of glamour to any ensemble.
3. Small Gold Hoop Earrings
Small gold hoop earrings are perfect for those who prefer a subtle yet stylish statement. These delicate accessories are incredibly versatile, suitable for both everyday wear and special occasions.
For a minimalistic look, wear small gold hoop earrings with a crisp white shirt and tailored trousers. If you want to add a touch of femininity, pair them with a flowy floral dress and sandals.
Small gold hoop earrings are the epitome of effortless chic.
4. Chunky Gold Hoops
Chunky gold hoop earrings are bold, eye-catching, and perfect for making a fashion-forward statement.
These statement earrings demand attention and are best worn with simpler outfits. Pair them with a monochromatic ensemble, such as a black jumpsuit or a white sundress, to let the chunky gold hoops take center stage.
Embrace your inner fashionista and let these earrings be the focal point of your look.
5. Textured Gold Hoops
Textured gold hoop earrings add a touch of uniqueness and intricacy to your jewelry collection.
These earrings come in various designs, including hammered, twisted, or braided textures. The texture adds dimension to the hoops, making them visually captivating.
Style textured gold hoop earrings with a bohemian-inspired outfit, such as a flowy maxi skirt, a peasant top, and stacked bangles. Let your free-spirited nature shine through with these captivating earrings.
6. Two-Tone Hoop Earrings
Two-tone hoop earrings offer a unique and eye-catching twist on the classic hoop style.
Combining the elegance of gold with the sleekness of silver, these earrings add a touch of sophistication to any outfit. The contrasting tones create a dynamic and modern look that is both versatile and trendy.
Pair two-tone hoop earrings with a chic monochrome ensemble or a neutral-toned outfit to let their striking design take center stage. Embrace the fusion of gold and silver and make a stylish statement with these captivating earrings.
In conclusion, hoop earrings are a timeless and versatile addition to any jewelry collection. Whether you prefer the elegance of gold or the contemporary charm of silver, there is a hoop earring style to suit your taste. Experiment with different sizes and textures to find the perfect pair that complements your personal style. Embrace the versatility of hoop earrings and let them be the finishing touch that completes your ultimate jewelry collection.