FROM TED LASSO and succession TO KATE MIDDLETON

From Royals to Ted Lasso's stardom, our jewellery is making waves! Keep reading to see which celebs are rockin' our hoops in print and online publications. You won't want to miss out on this stylish scoop!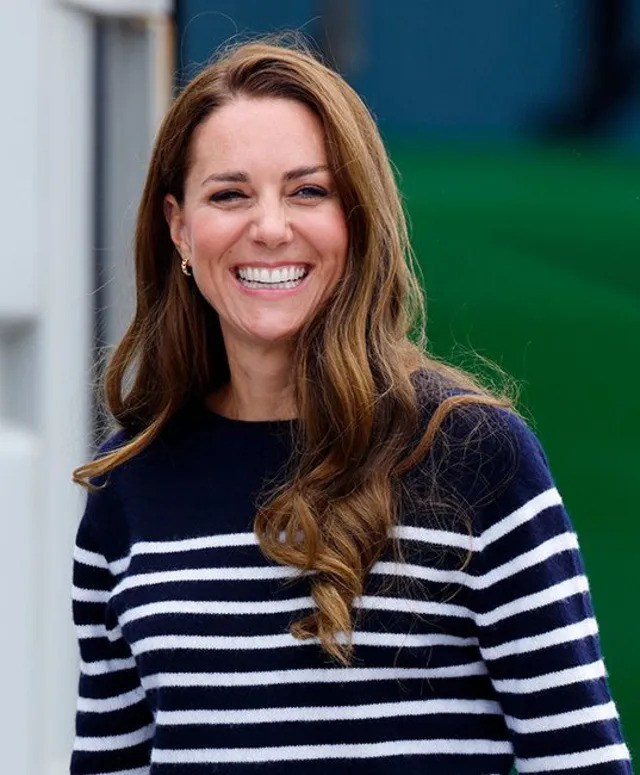 Kate Middleton approved hoop earrings on HELLO UK
Both Kate Middleton and Meghan Markle have been spotted wearing mini gold hoop earrings, making them a must-have for any fashion-forward jewellery box.
But you don't have to be a royal to rock our hoops. Our collection offers a variety of styles, from classic gold hoops to chunky statement designs that add a touch of edge to any outfit.
And we're not the only ones raving about our hoop earrings. Hello UK has named us as one of the best places to buy gold hoop earrings, cementing our place as a go-to destination for fashion lovers.
Ted Lasso's Hannah Waddingham wearing the Bella gold hoops and bangle on ITV This Morning
Our Bella gold hoops and bangle have been making waves in the fashion world, and it's no surprise why. They were also recently seen on Ted Lasso star Hannah Waddingham during her appearance on ITV's This Morning.
Waddingham rocked our Bella gold hoops and bangle with effortless style, proving that our jewelry can add a touch of elegance to any look, whether it's dressed up or dressed down.
The look was style by James Yardley.
The Puffed Heart Earrings on Refinery29's April's Must Buys
Our Puffed Heart Earrings have made a splash in the fashion world, earning a coveted spot on Refinery29's April Must Buys list. The trend towards puffy and chunky jewellery shows no signs of slowing down, and our earrings are a perfect way to add some boldness to your accessory collection.
Crafted with the highest quality materials, our earrings are both hollow and lightweight, making them comfortable to wear without compromising on style. They are also hypoallergenic, so you can make a statement without sacrificing comfort.
The affordability of our collection is also noteworthy, offering trend-setting pieces at accessible prices. Whether you're dressing up or down, our Puffed Heart Earrings are sure to elevate any outfit. With their unique design and attention to detail, it's no wonder they're turning heads in the fashion world.
The Drop Gold Earrings On The Telegraph
As the new season of the HBO hit series Succession takes the world by storm, fashionistas are turning to the "stealth wealth" trend to emulate the show's ultra-rich characters. And what better way to achieve this look than with The Drop gold earrings, as seen on Lisa Armstrong OBE in The Telegraph? These earrings embody the quiet luxury trend, allowing you to exude effortless sophistication without breaking the bank. With their high-quality craftsmanship and accessible prices, The Drop earrings are a must-have addition if you want to dress like 1%.
The Kyma gold bangle on SheerLuxe
In the world of fashion, stacking is the new black. And nowhere is this more evident than in the stacking sleeve trend that has taken the world by storm.
If you're looking to add some flair to your wrist game, look no further than our new collection of bangles and cuff bracelets, including the stunning Kyma gold bangle featured on SheerLuxe. Made with high-quality materials and designed to perfection, these pieces are the ultimate statement in quite luxury.
The Bella gold hoops on SheerLuxe
When it comes to iconic gold hoops, our Bella hoops are a cut above the rest. The chunky shape has become synonymous with the classic hoop earring, and it's no wonder why they are the ultimate best sellers for years! Made from hypoallergenic sterling silver, these hollow tubular hoops are lightweight and won't tarnish or irritate your ears.
It's no surprise that SheerLuxe named our Bella gold hoops as the ultimate gold hoop earring. Whether you prefer a small or large size, these hoops are the perfect addition to any jewelry collection. Their timeless design makes them suitable for any occasion, and their high-quality materials ensure that they will last for years to come.