Everything You Need To Know About Bangles & Cuff Bracelets
Bangles and cuff bracelets have always been an essential part of the fashion-conscious woman's accessory collection. They're timeless, versatile, and can instantly transform any outfit from drab to fab. However, when it comes to choosing the right style, things can get a bit overwhelming. That's where our new cuff bracelets and bangles collection comes in. In this definitive guide, we'll cover everything you need to know about cuff bracelets and bangles, from what they are to how to wear them.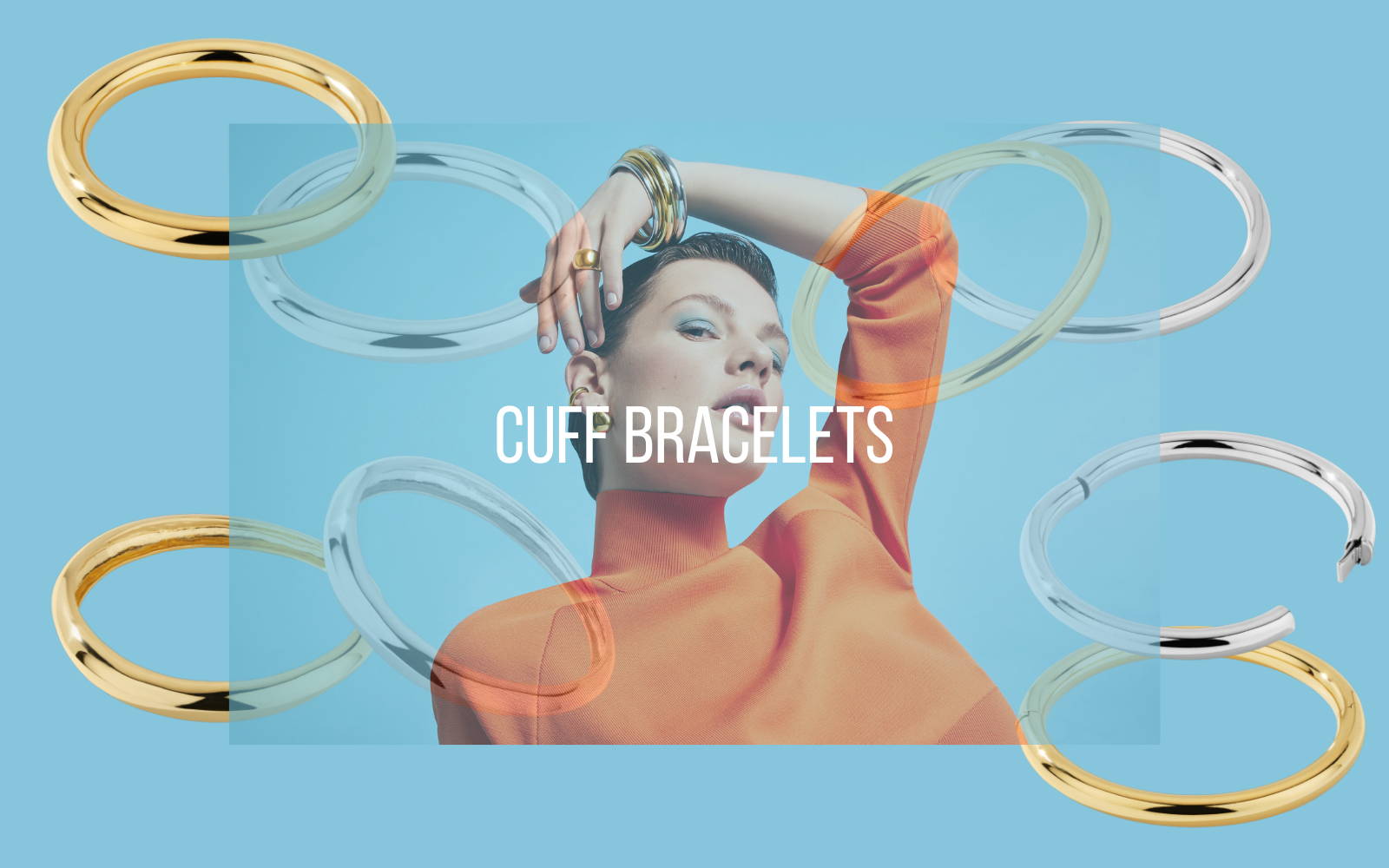 1. What is a Cuff Bangle?
A cuff bangle is a type of bracelet that is circular and has an opening on one side. Unlike traditional bangles, cuff bracelets are not completely closed, which makes them easy to put on and take off. They are also usually wider than traditional bangles, which makes them more of a statement piece.
2. What is the Difference Between A Bangle And A Bracelet?
The main difference between a bangle and a bracelet is the way they are worn. Bangles are circular and slip onto the wrist, whereas bracelets typically have a clasp or fastening mechanism. Bangles are usually wider and more rigid than bracelets, which can be made from various materials and can be either delicate or chunky.
3. How To Wear Cuff Bangle
Cuff bangles are incredibly versatile and can be worn in many different ways. One popular way to wear them is to stack them together. Layering a few cuff bracelets of varying widths and textures can add interest to an outfit and give a bohemian vibe. For a more streamlined look, wearing a single cuff bangle can be an elegant way to add a touch of sophistication to any outfit.
4. Can Bangles Be Made Smaller?
If your bangles are too big, it is possible to make them smaller. However, it's important to note that not all bangles can be resized, and some may be more challenging than others. Cuff bangles, on the other hand, can be adjusted by gently squeezing or widening the opening to fit your wrist comfortably.
5. How Loose Should A Bangle Be?
When it comes to bangles, it's essential to get the sizing right. Bangles should be snug enough to stay in place but loose enough to move freely. As a general rule, you should be able to fit a finger between the bangle and your wrist. This will prevent the bangle from slipping off and also ensure that it doesn't feel too tight or uncomfortable.
6. How Loose Should A Bangle Be?
Cuff bracelets can be worn on any occasion, from formal events to casual outings. They look great on bare arms or paired with long-sleeved tops or dresses. Depending on the style of the bracelet, they can be worn alone or stacked with other pieces of jewellery.
7. Types Of Cuff Bracelets
There are many different types of cuff bracelets available, from simple and understated to bold and intricate. Wide cuff bracelets are a popular style, and they come in various widths and designs. Some cuff bracelets feature intricate detailing, such as embossed patterns, while others are sleek and minimalistic. Handmade silver cuff bracelets and designer cuff bracelets are also popular, and they often feature unique designs and high-quality materials.
8. Can I Mix Silver & Gold Cuff Bracelets?
Absolutely! Mixing metals has become a huge trend for 2023, and it's an excellent way to add interest to your jewellery collection. Silver cuff bangles and gold cuff bangles can be mixed and matched to create a unique and stylish look. Alternatively, bangles can be layered with other pieces of jewellery, such as chain bracelets, to create a more eclectic look.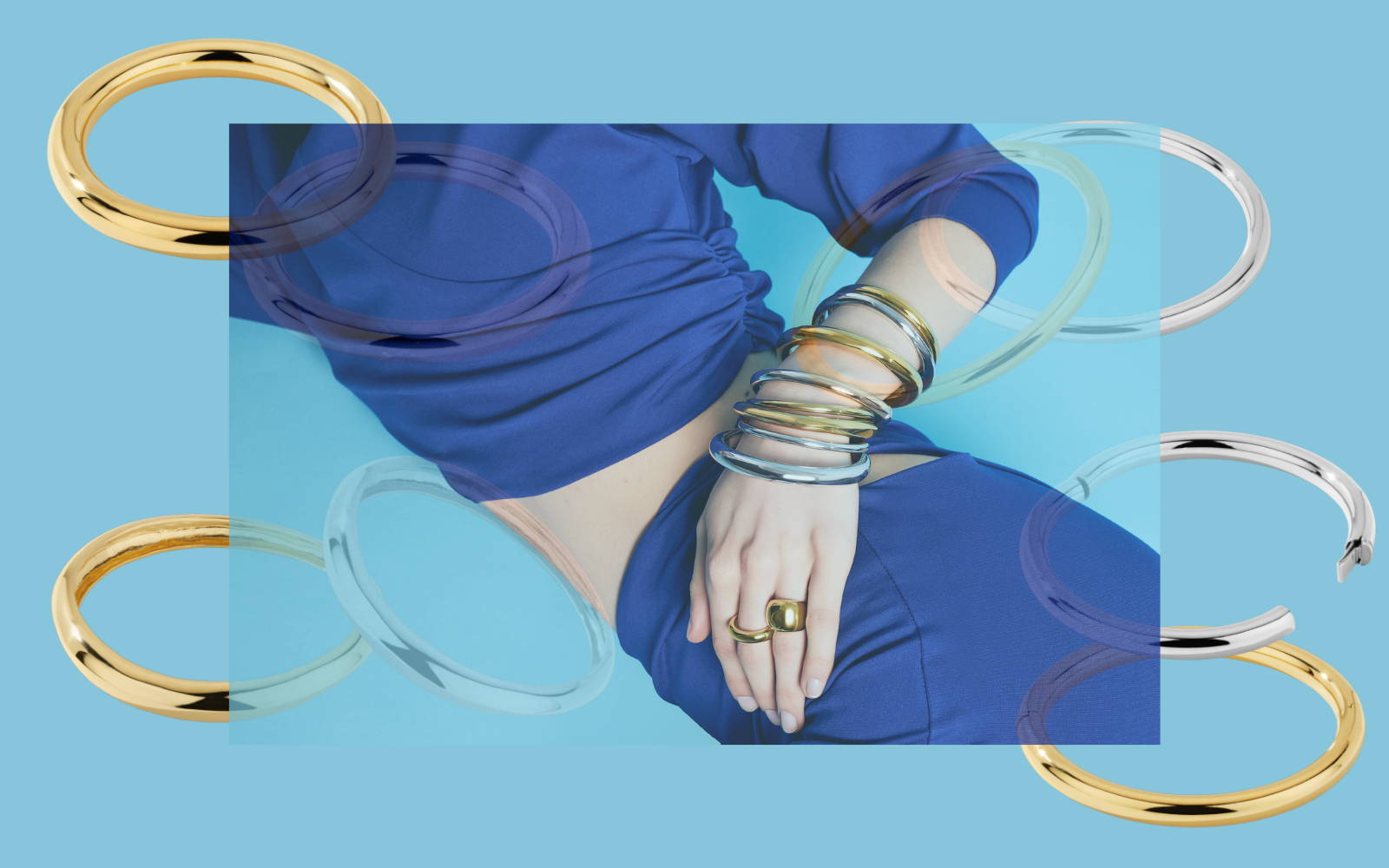 Our New Cuff Bracelet Collection
We are thrilled to introduce the new Galleria Armadoro bangles & cuff bracelets collection. Introducing the Gaga, the Bella, the Kyma and the Luna cuff bracelets. These four styles are handcrafted with precision and care, using brass plated with the highest quality of 18ct gold and white rhodium. The plating is thick, ensuring that these bracelets last for a very long time.
All of these cuff bangles are designed to slip on effortlessly, except for the Bella cuff, which features a clasp mechanism for easy wear. With a diameter of 6.5cm, these cuff bangles are designed to fit most wrist sizes comfortably.
What sets these cuff bracelets apart is their unique design. They are tubular, hollow and extremely lightweight, just like our hoops. This makes them a perfect accessory for everyday wear. You can wear them to add a touch of elegance to a simple outfit, or to make a bold statement with a more daring look.
The Gaga cuff bangle is perfect for those who love a wide cuff bracelet. It features a textured design that is both bold and sophisticated. It is available in both silver and gold cuff bangle options, making it a versatile addition to any jewelry collection.
The Bella cuff bangle is an elegant and timeless piece that will never go out of style. It features a minimalist design, with a clean and simple look that is perfect for both casual and formal occasions. The clasp mechanism adds an extra level of security, ensuring that this cuff bangle stays securely on your wrist.
The Kyma cuff bangle is a statement piece that will turn heads wherever you go. It features a unique geometric design that is both eye-catching and sophisticated. This cuff bangle is available in both wide cuff bracelet and narrow cuff bangle options, making it suitable for all styles and preferences.
The Luna cuff bangle is a versatile piece that can be worn with a variety of outfits. It features a simple and elegant design, with a touch of sparkle that will add a touch of glamour to any look. This cuff bangle is available in both silver and gold cuff bangle options, making it a perfect addition to any jewelry collection.
In conclusion, our latest cuff bracelet collection features unique and stylish designs that are sure to impress. Whether you prefer wide cuff bracelets or narrow cuff bangles, silver cuff bangle or gold cuff bangle options, our collection has something for everyone. Handmade with care and attention to detail, these designer cuff bracelets are a must-have for any fashion-conscious individual looking to elevate their jewelry collection.
Our new cuff bracelet collection is not only stunning on its own, but it also comes with matching hoop earrings. The Gaga cuffs have their Gaga hoop earrings, the Bella cuffs have their Bella hoops, and the Luna cuffs have their Luna hoops, all available in various sizes to suit your taste. This matching set adds a touch of class and sophistication to any outfit.
In keeping with the Galleria Armadoro philosophy, the Kyma bangle from our best-selling Kyma collection represents the waves of the Aegean Sea. Its sleek design and excellent craftsmanship make it a must-have for any fashion-conscious individual. All of our bangles and cuff bracelets are tubular, hollow, and lightweight, and have a long-lasting plating that exudes unmatched quality. Our pieces are reasonably priced, making them accessible to everyone who appreciates fine jewelry.
Each of our bangles and cuff bracelets is designed with the Galleria Armadoro philosophy in mind: tubular, hollow, surprisingly lightweight, and fairly priced. Our commitment to excellence in design and quality is truly unmatched.